Store
SunSDR2 QRP HF and 6m SDR transceiver 5W
00030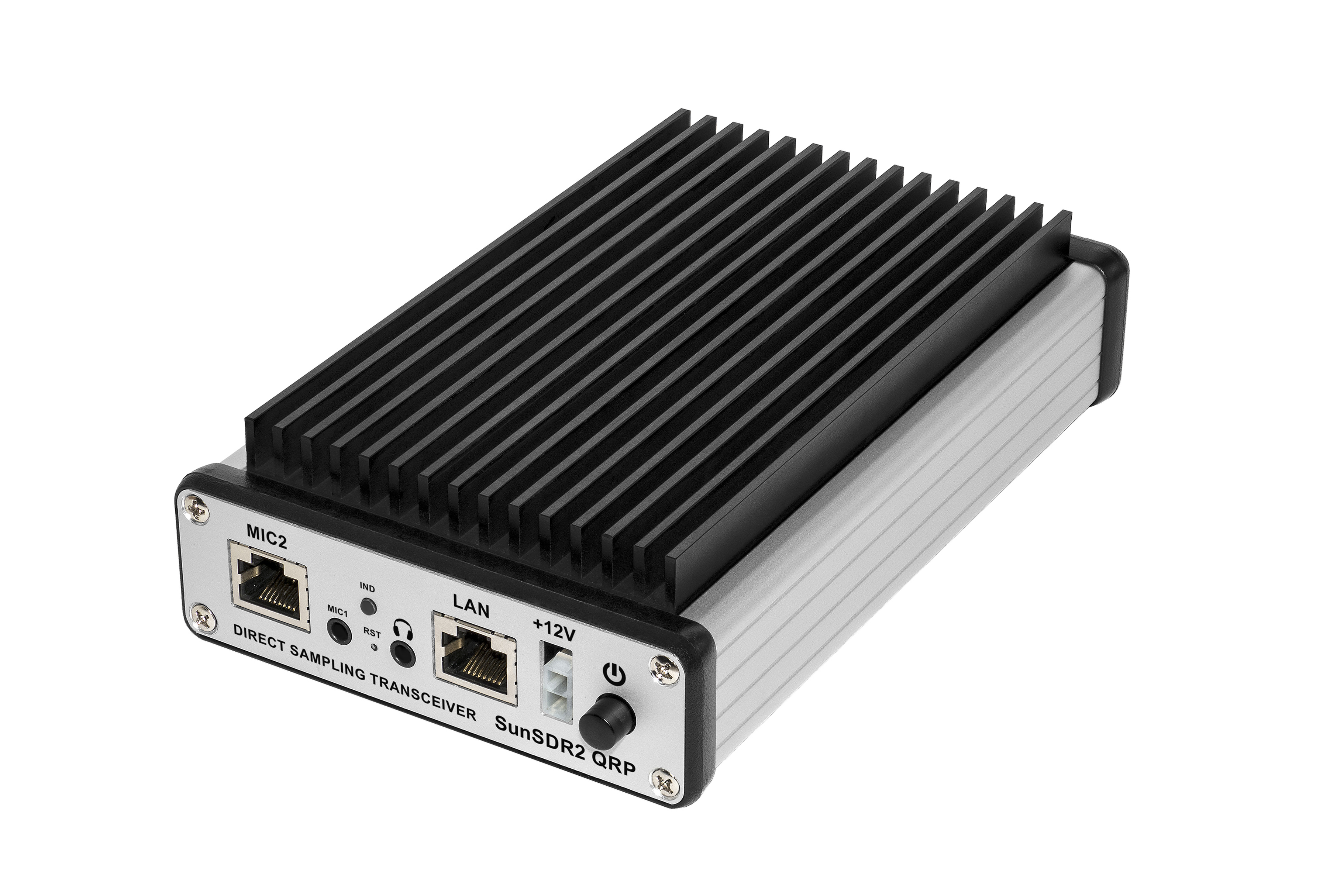 Expert Electronics
Software for SunSDR QRP Windows 7-10 as of May 27, 2017
In stock.

SunSDR2 Pro reviews: eHam.net and DX Zone



Vasily RN6LHF is operating SunSDR2 QRP from the field April 11, 2017
Your purchase includes 1 (one) hour of U.S.- based installation technical support (telephone/remote access to your PC). Addition time blocks can be purchased. Hardware warranty is 1 (one) year.

Designed in Russia. Assembled in Taiwan (R.O.C)
The SunSDR2 QRP is the HF transceiver with 5W output power and a wide range of capabilities. Thanks to the constantly improving ExpertSDR2 software and advantages of the direct sampling the SunSDR2 QRP can solve any given task for a reasonable price. The SunSDR2 QRP can be used either locally via the LAN interface or remotely using the ExpertRemote System, it gives you flexibility in arranging your working place as never before.
Main features
Immense functionality for a reasonable price
Designing each of our devices, we try to reach the best balance between the price and functionality
Full support of the ExpertSDR2 software
Continuously growing and improving ExpertSDR2 software is 100% compatible with the SunSDR2 QRP and will be supported for many years to come, at no additional cost!
Remote control operation with ExpertRemote system
You may install SunSDR2 QRP away from the city's RF interference a get the best noise floor, and copy weakest signals
External control connector
Connect up to 8 external devices to 8 powerful keys with open collectors, such as PAs, external filters, rotate antenna devices etc.
No need for an external sound-card
The SunSDR2 QRP does not require an external sound card and audio cables, just plug your headphones in the transceiver and operate!
16-bit ADC at 122.88 MHz
The SunSDR2 QRP has the best ADC in its price range which provides 115 dB BDR
Sample rates: 48-384 kHz
Simultaneously 60 MHz wide band-scope may be activated + 2 software RXs, each has a SubRX
Special mode for 768 kHz or 960 kHz sample rate, only for 1 RX + band-scope at the same time
1.2 MHz sample rate is in development
Application fields

Amateur HF and 6m transceiver
Remote operation just for fun or in contests
Spectrum analyzer with the wide band-scope up to 60MHz
Recording of IQ files and replay with analyses
Minimum PC specs

CPU Intel Core i3 or higher
2 GB RAM (4 GB is strongly recommended)
Video card with 256 Mbyte RAM and OpenGL 1.5 support
Local network connector 100 Mbps or 1 Gbps
OS Windows XP/7/8/10 x32 or x64, or Linux Ubuntu x64
| | |
| --- | --- |
| Mode types* | LSB/USB/DSB/CW/AM/SAM/NFM/WFM |
| General coverage receiver HF, MHz | 0.1...55 |
| Frequency coverage, HF TX mode, MHz | 1.8-54 |
| Sensitivity, uV | 0,1 |
| Maximum transmitter's output power HF, W | 5 |
| Blocking dynamic range, HF (BDR), dB | 115 |
| RF ADC clock frequency, MHz | 122.88 |
| RF (RX) ADC resolution, bit | 16 |
| RF DAC clock frequency, MHz | 122.88 |
| RF (TX) DAC resolution, bit | 14 |
| Local oscillator's stability, ppm | +/- 2.5 |
| DC Supply voltage range TX mode, V | +10...15 |
| DC Supply voltage ranger RX mode, V | +7...15 |
| DC Recommended supply voltage, V | +12 |
| Maximum consumption current, А | 3 |
| Built-in audio codec resolution, bit | 24 |
| Operating temperature, ºC | 0...+75 |
| Dimensions, mm | 165х100х35 |
| Weight, kg | 0,5 |
* - 3rd party software allow additional modes:
Software
The ExpertSDR2 software supports following types of OS: Windows XP/Vista/8/10, Linux Ubuntu/Kubuntu and Mac OS.
Basic configuration:
LAN-cable (1.8m)
Power supply cable (2m)