Store
SunSDR2 Pro HF and VHF SDR transceiver 20W
1953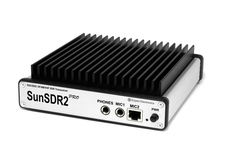 Expert Electronics
B/ordered till 1/22/2017. We will have units available at Orlando HamCation February 9-11, 2017. Please stop by our booth 308, North Hall
Please call (800)977-0448 US or +1(206)900-8873 International if you have any technical questions.

SunSDR2 Pro reviews: eHam.net and DX Zone

SunSDR2 Pro Test Report by Adam VA7OJ
Your purchase includes 1 (one) hour of U.S.- based installation technical support (telephone/remote access to your PC). Addition time blocks can be purchased. Hardware warranty is 1 (one) year.

Designed in Russia. Assembled in Taiwan (R.O.C)
Description
The SunSDR2 PRO transceiver is designed for advanced use in HF and VHF bands. Even the most experienced operator may be surprised by its capabilities. The modern hardware and small physical size makes this high performance SDR transceiver the perfect base station while at the same time very portable for field operations.
SunSDR2 PRO has a DB15 connector for control of external devices. It allows connection to practically any makes and models of power amplifiers, rotators, narrow band pass filters, etc.
The SunSDR2 PRO is perfect for contesting. Powerful and flexible software allows you to create custom designed station Profiles for many different types of contest efforts.
Main capabilities
Separate independent receive path based on Direct Down Conversion principle (DDC)
Separate independent transmitter, based on the Direct Up Conversion principle (DUC)
Full or half-duplex mode *
Antenna switch for 2 antennas HF
Built-in power-meter and SWR-meter for HF bands
External control connector for other devices, 10 powerful keys with open collector
ALC connector for external power amplifiers
Input connector for connecting PTT footswitch
Input connector for connecting CW-key
Output Jack for headphones, impedance 8-1000 Ohm
Microphone input Jack for electret microphone
Microphone connector with PTT switch (Yaesu MH-31 pin-out),which contains microphone, PTT button and 3 additional functional buttons
Protection from DC polarity reversal
Ethernet LAN interface provides galvanic isolation between transceiver and PC
Transceiver's calibrations are kept inside the device. No need for primary calibration
Remote operation. PTT footswitch and CW-key are connected to the E-Coder panel, microphone – to the PC
* Full duplex mode is supported by the transceiver's hardware, not implemented in software yet. This mode will be supported in the future ExpertSDR2 software versions.
Application fields
Radio Amateur HF/VHF transceiver
Remote reception point for contests
SO2R/SO2V working contest-station
Spectrum analyzer with the spectrum scope up to 80MHz
Recording of live signals with the further replay and processing
PC requirements
CPU Intel Core i3 1.6 GHz and higher
Video card, minimum resolution 1024x600, 128 MB, OpenGL 1.5 support and higher
Local network connector 100 Mbps or 1 Gbps
OS Windows XP/7/8 x32 or x64, OS Linux Ubuntu x64
Software

ExpertSDR2 software is required to operate SunSDR2 PRO transceiver.
Two OS types are supported : Windows XP/Vista/7/8/10 и Linux Ubuntu/Kubuntu.
Transceiver SunSDR2 PRO configuration

Transceiver SunSDR2 PRO
LAN-cable for connecting to local network (1.8m)
Power cable for connecting the transceiver to power supply (2m)
Audio-adapters JACK 6.3mm to JACK 3.5mm for connecting PC's headset to transceiver (2 pcs.)
Latest versions of software and firmware available in "Manuals and Software" Section of our website
RF Cable MiniUHF-Male to PL259-Female (SO-239) 1Ft (0.3m)
Characteristics
| | |
| --- | --- |
| Modulation types* | LSB/USB/DSB/CW/AM/SAM/NFM/WFM |
| General coverage receiver in HF, MHz | 0.09...65 |
| General coverage receiver in VHF, MHz | 95...148 |
| Frequency coverage in HF in TX mode, MHz | All amateur frequencies 1.8-54MHz |
| Frequency coverage in VHF in TX mode, MHz | 144...148 |
| Sensitivity, uV | 0,07 |
| Nominal transmitter's output power HF, W | 20 |
| Nominal transmitter's output power VHF, W | 8 |
| Blocking dynamic range HF mode (BDR), dB | 129 |
| Blocking dynamic range VHF mode (BDR), dB | >114 |
| RF type of ADC | LTC2209, Linear Technology |
| RF ADC clock frequency, MHz | 160 |
| RF ADC resolution, bit | 16 |
| RF DAC clock frequency, MHz | 640 |
| RF DAC resolution, bit | 14 |
| Recommended power supply, V, DC | 15 |
| Local oscillator's stability, ppm | +/- 0.5 |
| Supply voltage range, V, DC | 12...16 |
| Maximum consumption current, А | 5 |
| Built-in audio codec resolution, bit | 24 |
| ALC input voltage range, V | 0..4 |
| Operating temperature, ºC | 0...+75 |
| Dimensions, mm L x W x H | 165х165х35 |
| Weight, kg (lbs) | 1,5 (3) |
* - Additional types of modulation may be supported with external software
Declaration of Conformity
FCC
The SunSDR2-Pro complies with FCC Part 97 rules for the Amateur Radio Service.
Warranty:
All amateur products have a one (1) year warranty from factory defects and workmanship including accessories.