Store
Icom F6220D 01 UHF IDAS 400-470MHz mobile radio
244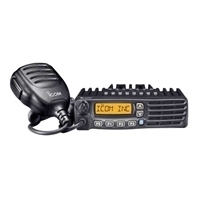 Icom Mobiles UHF
400-470MHz 512ch; 45W; IDAS mobile
Wida Area Coverage with IDAS™ Multi-Site trunking
IDAS™ digital mode operation
The IC-F5220D series provides NXDN™ CAI-based IDAS digital mode operation. It is compatible with IDAS multi-site conventional and IDAS multi-site and single-site trunking.

Learn more about LINQ > | Learn more about MultiTrunk™ >
4W front mounted speaker
4 watts* front facing speaker delivers clear and loud audio throughout a vehicle's cabin. In addition, the digital modulation provides distinct clarity even at the fringes of the communication range.
Channel announcement
When you change the operating channel, the radio announces the channel number. Convenient for making radio adjustments without having to look at the radio.
Roaming scan
In the multi-site trunking mode, if the signal condition worsens as the radio user moves, the roaming scan automatically finds a new site to retain the communication link and quality.
Built military rugged
The tough aluminum die-cast chassis and polycarbonate front panel have been tested to the MIL-STD-810 environmental tests.
Optional accessory cable
An external GPS receiver, PC or other equipment can be connected with the optional OPC-2078 (D-sub 25-pin) or OPC-1939 (D-sub 15-pin). The ACC connector provides an ignition switch, external PTT, serial input/output, horn honk, channel control and public address functions, according to the programming.
*No digital modulation "IN" using accessory cables.
IDAS™ digital mode features
Up to 500 individual and up to 500 group ID aliases (Each for single-site/multi-site/conventional)
PTT ID and ANI
SDM (Short Data Message)
RAN (Radio Access Number)
Digital voice scrambler
GPS data (PC and software required to show received position data)
Call alert
Radio check (RX)
Remote monitor (RX)
ATB (All Trunks Busy) ring back
Status
Stun/kill/revive (RX)
Emergency
*TX: Transmit, RX: Receive
Other features
CTCSS/DTCS encode/decoder*
Microphone hanger action programmable
Talk around function
Forced narrow function*
Voting scan
Time-out-timer, lock-out penalty
128 channels with 8 zones
Power-on password function
Nuisance delete function
(* = Analog only)