Store
Icom F4210D 01 RC IDAS UHF handheld
209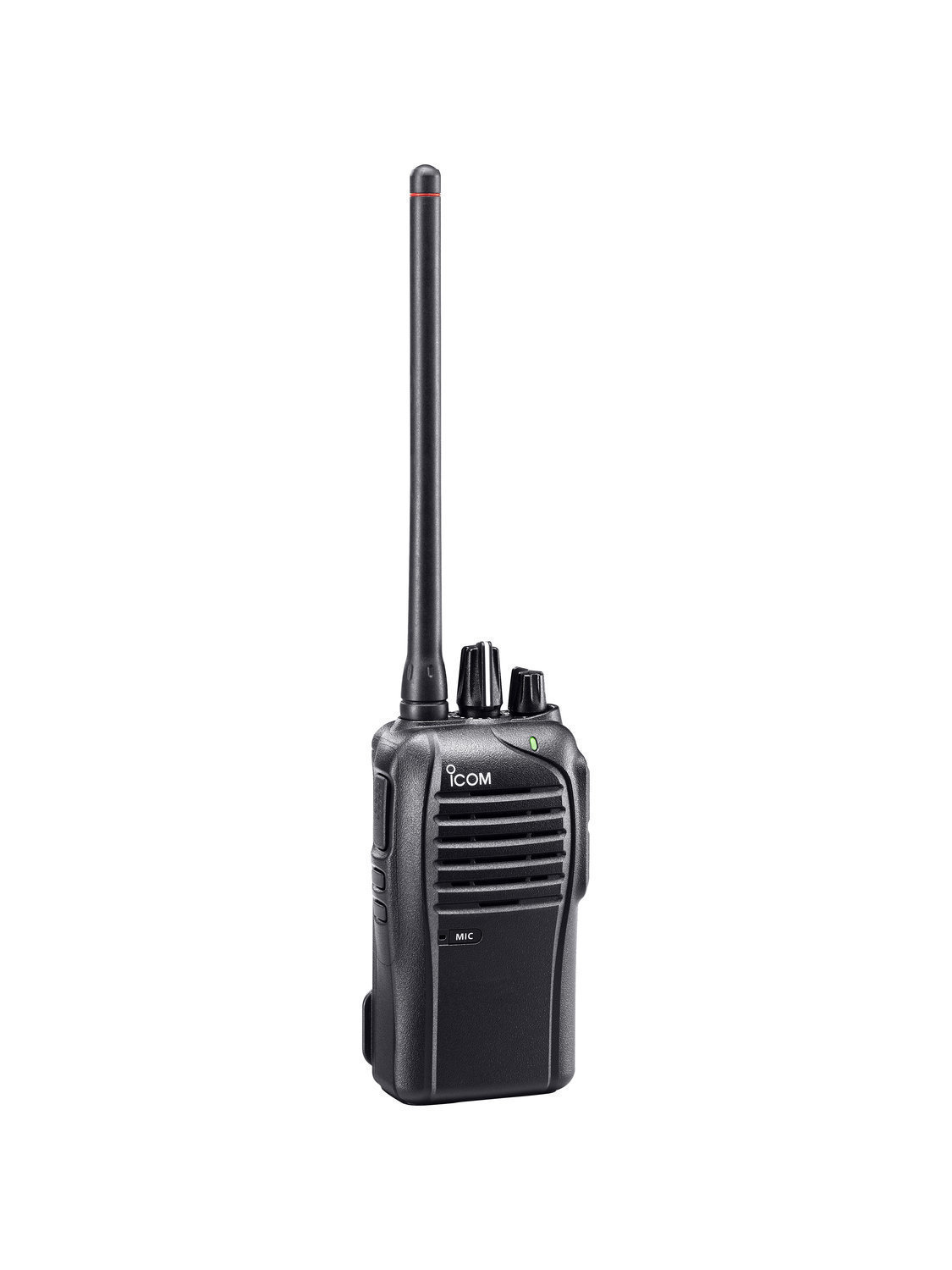 Icom Handhelds UHF
400 - 470 MHz; 12.5KHz only & IDAS; 16 channels; BC-193 rapid charger in the box
Everything You Expect in a Business Radio Plus Digital!
IDAS™ digital mode operation
The IC-F3210D series provides NXDN™ CAI-based IDAS digital mode operation. It is compatible with IDAS multi-site and single-site trunking and IDAS multi-site conventional.

Easy to hear in noisy areas
The built-in bridge-tied load (BTL) amplifier delivers a powerful 800mW

*

audio output from the large 45mm speaker. In addition, the digital modulation provides distinct clarity even at the fringes of the communication range.

Channel announcement
When you rotate the channel knob, the radio announces the channel number. Convenient for making radio adjustments without having to look at the radio.
Longer operating time
The Li-Ion battery pack, BP-265 (7.4V, 2000mAh typ.), provides 17.5/16 hours* of operating time. Even when used with the BP-264, the radio offers 12/11 hours* of operating time.
*VHF/UHF, Tx:Rx:Standby=5:5:90. Power save function ON.
Weather resistant, military rugged
While the radio is compact and light weight, the radio is tested to dust protection and water resistant equivalent to IP54 and 11 categories of MIL-STD-810 environmental tests. In short, the IC-F3210D series is built rugged!
Internal VOX capability
The radio has the internal VOX capability for hands-free operation. Optional compatible headset with plug adapter cable OPC-2004 can be used with the radio. Also, the VOX gain and VOX delay time are adjustable.
Roaming scan
In the multi-site trunking mode, if the signal condition worsens as the radio user moves, the roaming scan automatically finds a new site to retain the communication link and quality.
IDAS™ digital mode features
PTT ID (TX)
Block decode
Radio check (RX)
Call alert
Emergency
GPS (TX with HM-171GP)
Individual/Group call
RAN (Radio Access Number)
Stun/kill/revive (RX)
Remote monitor (RX)
Digital voice scrambler
ATB (All Trunks Busy) ring back
*TX: Transmit, RX: Receive
Other features
CTCSS/DTCS encode/decoder*
Low battery alert
3-color LED
Time out timer
Lone worker function
Forced narrow function*
2-step power save
PC programmable
Voting Scan
Talk around function
No emergency in analog mode
Surveillance function
(* = analog only)
Built-in 2-tone and 5-tone (analog mode)
2-Tone and 5-tone signalings give you selective calling, quiet stand-by and other convenient functions. The radio stun and kill functions disable a radio over the air and the revive function restores the stunned radio.
Scan features
The priority scan allows you to monitor one or two priority channels while scanning other non-priority channels. The transmit channel and talk back functions allow you to make a quick response while scanning.
The IC-F3210D: a multitude of advantages because it's IDAS
Advantage 1: Individual/group call

This is a simple and basic setting for those who use the radio mainly for individual and group call. Use the 16-position rotary channel knob to select the appropriate individual or group call. This setting also can be used with analog 2-tone or 5-tone signaling.
Advantage 2: Digital/analog mixed mode

The IC-F3210D series can receive both analog and digital mode signals on a single channel and automatically selects the received mode to reply to the received call, while the talk back timer remains. It's a smart way to grow into digital radio – at your won pace, as your budget and comfort allow.
Advantage 3: Perfect group communication tool, large or small

Mix the basic IC-F3210D series with the advanced IC-F3161D series for efficient group managed systems. Commands like radio stun, kill and revive as well as the caller ID of the IC-F3210D displayed on the administrator's radio provide efficient communication within the group.
Advantage 4: Multi-site conventional mode

When using the IC-F3210D series in IDAS multi-site conventional mode, the IC-F3210D can communicate with other IDAS radio users working with other repeater sites and/or virtual radio/PC dispatch stations on the IDAS network.
Advantage 5: GPS capability

When used with the optional GPS speaker-microphone, HM-171GP, GPS position data can be sent to other advanced IDAS radios (PC and software required) and/or virtual radio/PC dispatch stations.
IDAS single-site trunking

The IC-F3210D series can be used in an IDAS MultiTrunk trunking system. The IDAS trunking system is a distributed system (similar to the analog LTR™ trunking) with no control channel, so more voice traffic channels are available for increased system capacity.

*All advantages shown represent possible system configurations. Ask your Icom dealer to configure an IDAS system that works best for you. Note: Private IP Network or VPN Tunnels through the Internet with static endpoints.