Store
ColibriNANO .01-55MHz receiver
00029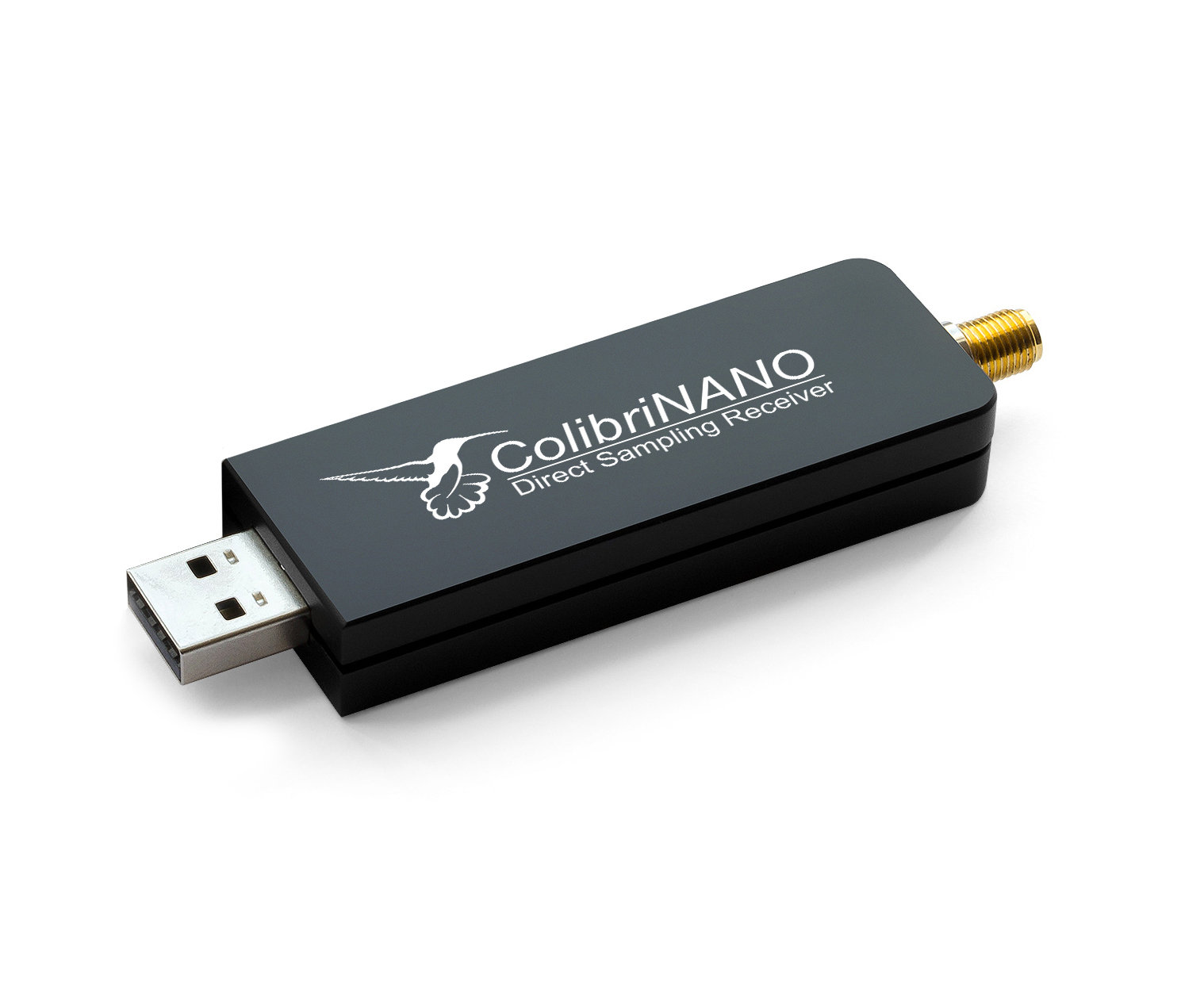 Expert Electronics
Price:
299.95
USD
In stock
Test report by Adam AB4OJ/VA7OJ: ColibriNANO Report

Elecraft K3 and Colibri DDC connections
User Manual for ColibriNANO receiver v1.0
This manual describes the hardware of the receiver and explains operation of ExpertSDR2 software.
ColibriNANO is an excellent platform to experiment with a Dual Diversity receive! (Two RX antennas with different polarization separated at least 1/2 wavelength with two synchronized receivers are required).
The ColibriNANO opens new horizons for HF band enthusiasts, deploying 14-bit ADC, which provides a ~110 dB BDR and up to 3 MHz sample rate. A 0.5 ppm local oscillator insures ColibriNANO frequency stability. Use ColibriNANO remote over IP, and enjoy copying weak signals with minimal industrial RF interference. The ColibriNANO supports ExpertSDR2 special version of software and compatible with popular SDR open source software such as HDSDR, SDRSharp via the ExtIO library.
Typical Applications
Direct USB 2.0 connection to your laptop
Remote operation
Remote connection with a local transceiver
Spectrum analyzer
ColibriNANO block diagram
Supported platforms
OS Windows XP, Vista, 7, 8, 8.1 and 10
Linux Ubuntu/Kubuntu
WEB-client for HTML5 browser
Minimum hardware requirements
Intel Core i3 CPU or equivalent
4GB of RAM
High-speed USB 2.0 controller
Compatible software
ExpertSDR2
Legacy SDRSharp
HDSDR
ExpertSDR2 software was written to support amateur radio SDR transceivers manufactured by Expert Electronics. Software version for the ColibriNANO allows you to harness all the potential of the receiver: remote operation, synchronization with the transceiver, IQ channel bandwidth up to 3 MHz and control of the preamplifier and LPF.
Supported modes: LSB/USB/DSB/CW/AM/SAM/NFM/WFM
IQ output via Virtual Audio Cable (VAC)
Compatibility with any sound card installed on your PC for the audio output
Synchronization with transceivers via CAT interface
Special interface to control the CW Skimmer
Minimum window resolution 860x466 pix
Support of the FullHD and 4K monitors
All new versions of the software provided at no additional cost
Appearance of the ExpertSDR2 software
Architecture description
Remote operation with the ColibriNANO receiver
To control the ColibriNANO via Internet Expert Electronics created ExpertRemote system, based on the client-server configuration. This system allows you to place the receiver and server at the remote location with minimal natural and men-made interference and Internet connection. With ExpertRemote system you can enjoy reception of weak signals from your smartphone, tablet, notebook or PC.
Another feature of this system is that the receiver's software can be synchronized with transceivers and can be used as the panoramic adapter with high resolution.
Distant stations, rare (DX) stations or expeditions from now on will be more accessible for you with ExpertRemote system!
More information about the ExpertRemote system you can find here.
ExpertRemote system block-diagram
Technical specifications
Modes*
LSB/USB/DSB/CW/AM/SAM/NFM/WFM
Receiving bandwidth, MHz
0.01 - 55
Receiving bandwidth in the undersampling mode, MHz
0.01– 500
Noise floor, dBm

1.9 MHz (160M) - 131
7.1 MHz (40M) - 130
52.5 MHz (6M) - 127

Sample rate with IQ stream resolution 24-bit, kHz
48, 96, 192, 384, 768
Sample rate with IQ stream resolution 16-bit, kHz
1536, 1920, 2560, 3072
Amount of software receivers
1 (+1 SubRX)
Sensitivity, uV
0.35
Blocking Dynamic Range (BDR), dB
110
IMD3 Dynamic Range, dB
95
DC Supply voltage range, V
4.5...5.5
Maximum antenna input voltage, without ADC overload, mV (ATT=0 dB)
74 (Pk-Pk); 32.7 (RMS)
Maximum current consumption, A
0.41
Input impedance, Ohm
50
ADC clock frequency, MHz
122.88
ADC resolution, bit
14
Local oscillator stability, ppm
+/- 0.5
Local attenuator with 0.5 dB step, dB
from -31.5 up to +6
RF input with up to 15 kV ESD protection
SMA connector
Dimensions L x W x H, mm (inches)
90 x 25 x 17 (3 1/2" x 1" x 5/8")
Operating temperature, °C
from -10 up to +60
Weight, gram (Ounces)
43 (1.52)
* - with 3rd party software additional modes can be supported.
ExtIO Libraries: