Store
ColibriDDC 0.01-55MHz receiver
1730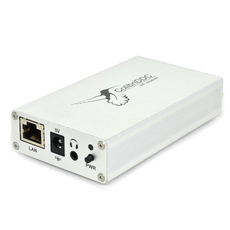 Expert Electronics
Elecraft K3 and Colibri DDC connections
Small-size ColibriDDC receiver is intended to receive signals in HF frequency bands from 0.09 to 55 MHz, and also with the additional external filters to receive frequencies up to 800 MHz and operater with a PC. Receiver was designed in accordance with the principle of direct digital signal sampling by high speed analog-digital converter. Such architecture allows to suppress noise of analog stages and makes the air sound natural and transparent. Local network interface allows remote operation over a network and also allows to connect simultaneously several receivers to one PC.
Note! The receiver does not contain band pass filters and may be overloaded by strong near-by signals.
Main capabilities
ADC sampling frequency 125 MHz and 14 bit resolution
Two independent receiving channels with sampling frequencies up to 312 kHz
Recording with a bandwidth up to 312 kHz, replay and analyses
Receive in Nyquist zones up to 800 MHz (necessary to add external filters)
Wide spectrum scope up to 60 MHz
24 bit audio – DAC for minimizing of signal delay
Connector to control external devices, 7 programmable transistor switches
Interface with a PC – LAN 100 Mbps
Low power consumption: 5V 0.64A
External reference generator input 10 MHz
Small dimensions W 64 x H 24 x L 112 mm
ExpertSDR2 receiver's software
Application fields
Dual channel HF receiver
Pan-adapter for analog transceivers
Remote reception point for contests and other applications
Spectrum analyzer with spectrum scope up to 60 MHz
Operation with 3rd party software: Digital Decoders, Loggers, CW skimmer, etc.
PC requirements
Processor Intel Core2Duo and higher
Video card supporting OpenGL 1.5 and higher and RAM 256 Mbyte or more
Local network connector 100 Mbps or 1 Gbps
OS Windows XP/7/8/10 x32 or x64, OS Linux Ubuntu x64
Software
Special version of ExpertSDR2 software with adapted interface for receive mode only is designed for ColibriDDC receiver. At the present software supports two independent channels with the bandwith up to 312 kHz. Two OS are supported: Windows 7/8/10 and Linux Ubuntu.
Receiver's block diagram
REF – connector to connect external 10 MHz generator
PLL – ADC clock frequency synthesizer
ATT – attenuator
MCU – microcontrol unit
Ant – connector to connect the HF band antenna
TCXO – inbuilt temperature compensated crystal oscillator
ADC – high speed analog-digital converter
DAC – audio digital-analog converter
EXT CTRL - connector for controlling the external devices
LPF – input low frequency filter (disabling)
FPGA - field programmable gate array
LAN – local network connector
PHONES – jack for connecting headphones
Front – front panel
Rear – rear panel
Basic configuration:
ColibriDDC Receiver
Power supply adapter: ~AC110v/DC 5V 2A
Adapter SMA - SO-239 (PL259 UHF female)
LAN – cable

Additional options:
In addition to basic receiver's configuration following options available:
PC's headset EE-PH-01
Control panel EE-EP-01 or E-coder mini (kit) EE-EP-02 for comfortable remote work.